Working with Arrows
vRigger provides many different ways to display arrows. Arrows can help draw your audiences' attention to specific aspects of your rigging illustrations.
Predefined Arrows
Several predefined arrows are available. They can be resized, but their colors and proportions are fixed.

Line (shape) Arrows
You can set a property in "Line (shape)" items to add arrowheads to the ends of lines. You can also change the lines' color, width, and line style. (Learn more about working with shapes.)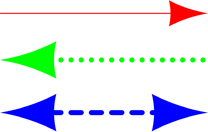 The Customizable Arrow
The item named "Arrow (customizable)" can be modified by changing various settings in the properties pane.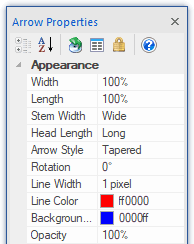 The arrow's "style" can be set to Straight or Tapered.

The "stem width" can be set to four different widths.

The arrow's "head length" can be set to four different lengths.

You can also specify the arrow's length, fill color, whether the arrow has a border and the border color

A sample file provides additional instructions on using the customizable arrow. You can also copy arrows from that sample file and paste them into your vRigger files.